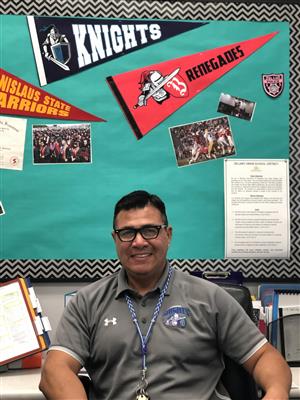 Dear Princeton Students and Parents,
I am excited to welcome you all to the 2021-2022 school year here at Princeton Street Elementary School. We are always grateful for the opportunity to continue to serve our students and wonderful school community by providing exceptional learning experiences for our students and working closely with parents. The last school year presented all of us with many challenges, and I am grateful for the efforts put forth by our staff, students, and parents. With the reopening this school year, our focus will be on the safety and well-being of our staff and students while providing high quality instruction. More than ever, we will all need to work together, and be flexible, to help ensure a safe and successful learning experience for our students.
We are all excited for the upcoming school your, and look forward to a year of memorable experiences. Please make sure to follow us on Facebook and keep an eye out for upcoming events!
Mark Ruiz
Principal
Estimados estudiantes y padres de Princeton:
Estoy emocionado de darles la bienvenida a todos al año escolar 2021-2022 aquí en la Escuela
Princeton. Siempre estamos agradecidos por la oportunidad de continuar sirviendo a nuestros
estudiantes y a la maravillosa comunidad escolar al brindar experiencias de aprendizaje excepcionales para nuestros estudiantes y trabajar en estrecha colaboración con los padres. El último año escolar nos presentó a todos muchos desafíos y estoy agradecido por los esfuerzos realizados por nuestro personal, estudiantes y padres. Con la reapertura de este año escolar, nuestro enfoque estará en la seguridad y el bienestar de nuestros estudiantes y personal mientras brindamos instrucción de alta calidad. ¡Más que nunca, todos necesitaremos trabajar juntos y ser flexibles para ayudar a garantizar una experiencia de aprendizaje segura y exitosa para todos nuestros Princeton Knights!
Todos estamos emocionados por el próximo año escolar y esperamos crear muchas experiencias memorables. ¡Asegúrate de seguirnos en Facebook y estar atento a los próximos eventos!
Mark Ruiz
Principal